At times, certain types of tasks can appear to be difficult, despite being simple, if no services exist to meet the requirements. The need to conduct quick searches is a typical task for many of our clients. Our clients engaged in research projects often need information quickly.
A service offered by SciTech Patent Art is SwiftSearch, which is designed to accommodate the quick search requirements of our clients and save them time and improve their research projects overall efficiency.
In addition, clients may have deadlines or time constraints for their research projects, and services like SwiftSearch can assist them in meeting those deadlines by providing the answers and information they require within a short period of time.
SwiftSearch is a search service that delivers targeted search results in a specific technical area within 2-3 business days. This service is very useful to individuals working on a research project and would like to find information quickly.
By asking SciTech Patent to conduct a SwiftSearch, one can save time by having the search results delivered in a timely manner and help in accelerating the pace of research in your organization. This is a low-cost service offered on a flat-fee basis and is attractive to individuals who are looking for valuable information while remaining their research costs under control.
Overall, SwiftSearch can be a valuable service for those who need to conduct research in a specific technical field, providing targeted search results within a short timeframe at a low cost.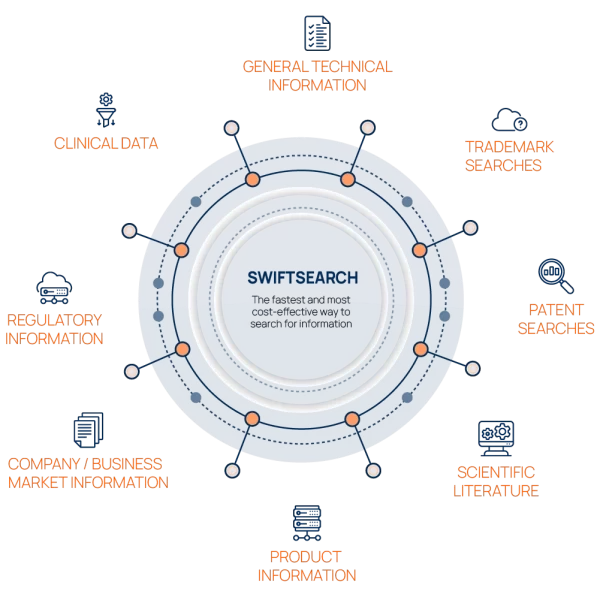 SwiftSearch can be used for a variety of purposes related to technical research, including:
Patent searches: An investigator may request a quick patent search to find relevant patents in a particular technical area, or to obtain more information about specific patents, inventors, organizations, or similar entities.
Scientific literature: Researchers may be interested in reviewing scientific literature / research articles related to a particular topic. To understand the latest developments in their technology, they can request that articles of interest to them be searched and identified.
Product information: It is possible for researchers to request product information or specifications from product brochures, user manuals, as well as requests for product reviews.
Company / business / market information: Researchers may request information on specific companies, or can request to conduct a market research study on a particular industry or topic.
Regulatory information: SwiftSearch service can help researchers find information on regulations related to a specific technical field such as pharmaceuticals, chemicals, etc. In this way, one can become aware of any changes in regulatory requirements or learn about regulatory compliance.
Clinical data: Additionally, researchers may request to search for data across phase I, phase II, and phase III clinical trials or product approvals.
General technical information: Users may request more information about a specific technology or topic that interests them. A short overview of that particular technology will be provided by our analysts after quick research.
Trademark searches: Upon request, our analysts can search trademarks for companies or identify trademark protections in particular geographies.
Please contact us if you have any additional questions.
How can you send us your SwiftSearch request?
Requestors may submit their requests using a web-based query form by describing their requests with any specific questions. SciTech Patent Art (SPA) will acknowledge receipt of the email and contact the requestor if further clarifications are required. The search will be conducted, and a concise report will be delivered within two or three business days. SciTech Patent Art (SPA) will provide follow-up support regarding the search report.
In order to perform a SwiftSearch request, the following steps are followed:
Our analysts will conduct searches in specific technology areas. The results will be scrutinized in order to identify relevant documents. The following information is included in a report:
Executive summary
Search strategy
Relevant results
Our report will be delivered to the client within two to three business days in Word or Excel format along with a summary of our findings and relevant information.
SwiftSearch offers a number of advantages :
A quick turnaround time and a cost-effective solution
Searches conducted by subject matter experts
A highly targeted search result is provided
A concise and easy-to-understand report
Requests can be submitted easily (by email, phone, or website)
What is a typical SwiftSearch request?
Search for a supplier of a specific chemical in China.
Is it possible to conduct a quick search to determine whether a particular chemical has been used in a particular industry?
Find if an ingredient has been approved to be used in a specific industry in US or Europe?
Identify some scientific literature related to activation of specific , their downstream targets and their effect on inflammation.
The company manufactures nutritional / food fiber bars. Would you be able to provide me with more information about the company and its products?
Would you be able to identify companies that have patents in a particular field of technology?
I would like to receive information on all therapeutic products with specific supplements that are currently marketed in the following countries by company A: Australia, Brazil, Canada, China, France, Germany, India, Indonesia, Italy, Mexico, Poland, Russia, Spain, Ukraine, United Kingdom, and the United States.
We have expertise in the following industries: 
Automotive, Packaging and Design
Chemicals / Materials / Polymers
Electrical, Electronics and Semiconductors
Food and beverages
Life Science / Pharmaceutical / Cosmetics
Medical Devices
Oil, Gas & Energy
And many more…
The SwiftSearch from SciTech Patent Art is a specialized search service designed to deliver targeted results in a specific technical area within a short period of time. Due to the nature of conducting a very focused search, it is cost-effective, making it an attractive option for those seeking rapid and accurate research results, allowing them to utilize it more frequently. This research is conducted by subject matter experts with highly specialized knowledge, providing the search results to be focused and of high quality. You can easily submit SwiftSearch requests via an email or client query form. All reports are provided in an easy-to-understand format.